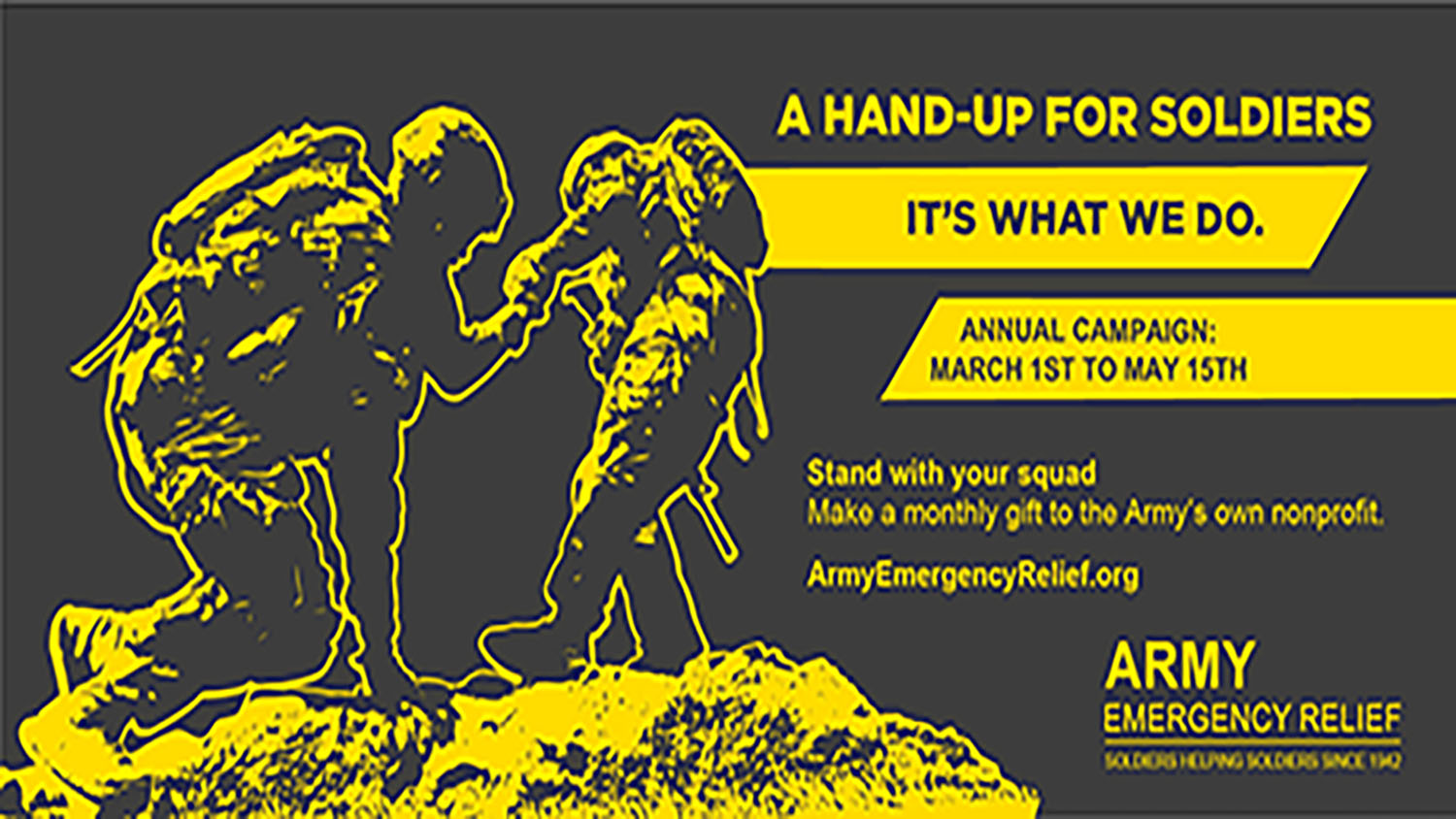 Army Emergency Relief Campaign
Date: Mar 1 2020, 12 a.m. - May 30 2020, 11:59 p.m.
Stand with your squad. Make a monthly gift to Army's own nonprofit.
ArmyEmergencyRelief.org
Registration Info
COVID-19 has temporarily altered the AER application process. Please click
HERE to download the application instructions.
Army Emergency Relief (AER) provides financial assistance through
no-interest loans and grants to Active Duty Soldiers, Retired Soldiers,
Family members, surviving spouses, and orphans when there is a valid
financial emergency. They also provide scholarship opportunities for spouses
and dependent children. AER works with all other service aid societies to
provide assistance to Service members of all branches of military service.
While all assistance requests are unique and considered on an individual
basis, categories of authorized emergency financial assistance include:
non-receipt of pay, theft of funds, medical expenses, funeral expenses,
required travel, rent, utilities, food, repairs for privately-owned
vehicles, clothing, repair of HVAC, cranial helmets, privation, and fire or
other disaster. Visit https://www.armyemergencyrelief.org/assistance/ to see
more categories of authorized assistance.
THREE WAYS TO APPLY:
1. Talk to your Chain of Command
The fastest and most effective way to request financial assistance through
AER is to talk to your chain of command. Your chain of command has the power
to approve immediate financial assistance up to $2,000. Your chain of
command can also refer you to the on-post AER officer. Your chain of command
is empowered to help. Just ask!
2. Visit your AER Officer
Any Soldier (active or retired) can visit their nearest AER officer.
Officers are conveniently located at many Army installations around the
world. No Army base nearby? No problem! Soldiers can visit any military
installation and request AER assistance from any military aid society. If
you are within 50 miles of Fort Detrick, MD, contact the Fort Detrick Army
Community Service at 301-619-2197 to talk to an AER Officer. Forest Glen
also has the option to use the Walter Reed National Military Medical Center
AER Officer at 301-400-0171. If it is after normal duty hours, please
contact the American Red Cross (see below).
3. Call the American Red Cross
Not located within 50 miles of a military installation? The American Red
Cross is authorized to provide financial assistance on behalf of AER. Call
the American Red Cross at 1-877-272-7337 then select the option for
financial assistance. Additionally, the American Red Cross can assist after
normal duty hours, normally for cases involving emergency travel and to
avoid immediate privation (basic living essentials).
AER Application (AER Form 101) and other forms are located at
https://www.armyemergencyrelief.org/resources/
OTHER PROGRAMS
Quick Assist Program:
AER's most powerful program. Company Commanders or First Sergeants can
approve financial assistance up to $2,000. Last year, 8,000 Soldiers
received over $10 million in financial assistance from their chain of
command. Give leadership the opportunity to help. Talk to your chain of
command.
Child Care Assistance:
Families enrolled in the Army Fee Assistance program are eligible for up to
$1,500 in child care assistance ($500 per month for 3 months) in addition to
assistance provided through the Army Fee Assistance Program. Families must
be enrolled in the Army Fee Assistance Program and demonstrate valid need
through the completion of a budget.
Wounded Warrior Assistance Program (AW2):
Soldier for life! Army Wounded Warriors receive personal access to AER
assistance. Applicants located within 50 miles of a military installation
should visit the on-base military aid office for a consultation. Applicants
not located within 50 miles of an installation should contact their AW2
advocate or AER HQ.
Survivor Assistance:
Surviving spouses and children of active and retired Soldiers are eligible
for financial assistance. Assistance is provided as a grant for an
individual request. Monthly stipends may be provided for the most destitute.
Wounded Warrior Comfort Grants:
Soldiers medically evacuated from hostile fire or imminent danger area,
peacekeeping operations, or training exercises within CONUS receive
immediate financial assistance. A $1,000 grant is provided at the time of
hospitalization. AER has provided over $3 million in comfort grants since
inception.
Educational Scholarships:
Spouses and children of active and retired Soldiers are eligible for
educational scholarship programs. AER provides over $8 million in
educational scholarships every year. For more information, visit:
https://www.armyemergencyrelief.org/scholarships/
DONATIONS TO AER
AER is a private, non-profit organization that relies on donations to carry
out the mission. If you would like to support AER, please visit
https://www.armyemergencyrelief.org/donate/. Here you will find links to
donate by credit card, eCheck, PayPal, and DoD allotment.
Contact